URDD A4, USB
Mid-range RFID reader/writer with integrated antenna.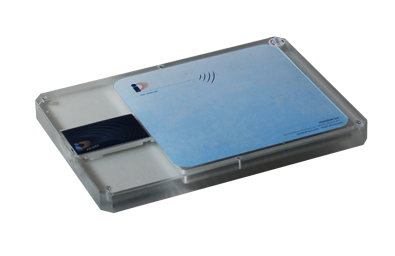 URDD-A4 Desk reader and writer for UHF tag reading. DIN A4 shape and plexiglas case.
It gives, with all the features that mark all desk readers/writers of passive UHF tags of IDNOVA, a wide support surface in this way it will be easier using it for multiple objects reading, for example books, package, etc.
It is available with a USB communication interface.
Air Interface Protocol

EPC UHF C1 Gen1/Gen2
ISO18000-6

Antenna

Integrated

Connection interface

USB 2.0

Operating frequency

862-955 MHz

RF Power

programmable by user from 5 to 25dBm

Operating temperature

From -20°C to +50°C

Supply

5V via USB

Material

Plexiglass case

Size

210 x 300 x 23 mm

Weight

1400 g

Legislation

CE

Standard equipment

USB cable
Handbook
Software for S.O. Windows
Protocol
Static library

Other

Optional .NET Library