Light Trolley
UHF RFID Reader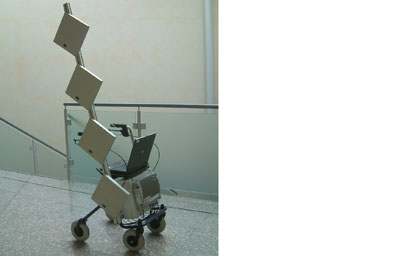 Light Trolley is a special RFID system conceived to provide a solution to all those companies looking for making an easy, rapid and reliable inventory.
You just need to walk along the shelves with this high performance UHF reader to read – efficiently and immediately as you walk through – all the items placed above that are equipped with UHF RFID transponders.
Light Trolley relies on an high performance UHF reader, four far field antennas mounted on pipe and a power supply unit with a battery and a recharging unit, to guarantee an autonomy of 20 hours of continuous working.
Thanks to its special capabilities, Light Trolley reads all the tagged items stacked on shelves and boxes up to several meters of distance, depending also on the transponders. For an optimal use it is recommended RFID transponders are placed neither behind nor in close proximity with metallic structures (i.e. shelves' planes).
The new advanced version of our UHF RFID system implements the following new features:
Smart antennas to automatically detect where antennas energy needs to be focused (i.e. for short pallets the bottom and lower antennas will be much more active than those on the top)
Advanced detection algorithm compatible with the EPC Global standard which "shut up" the tags already detected to individuate, in a faster and more efficiently way, the tags still to be detected and increase the gates efficiency in presence of crowded population of tags.
Autoset: to continuously optimise the reader's configuration for the best and optimal performances
Low Power consumption
Moreover the trolley has been motorised and is equipped with a dashboard that display its commands and status.
With the optional embedded Middleware the Light Trolley automatically creates a filtered log of the read items.
It can also be used with an optional laptop PC or tablet to make log and provide visual information along with its use.
Frequency Range

860 – 960 MHz

Protocols

EPC Class 1 Gen 2,ISO 18000-6C

Antennas

Up to 4x Directive patch Long Range

RF Power

Programmable by software up to +32.5 dBm (up to +30dBm if used with POE)

Reader power supply

"POE IEEE802.3af or 24 Vdc
0
8A through external power supplier"

Autonomy

More than 20 hours of continuous use

Recharging time

12 hours

Communication ports

Ethernet 10/100 Base-T Ethernet (RJ45); RS232, USB1,1 Device (type B) and host (type A)

Operating temperature

-20°C + 50°C

Physical dimensions

55 (L) x 130 (P) x 200 (H) cm

Available software

Demo Software for 

Windows ® XP