IDN-200-U
RFID UHF Readers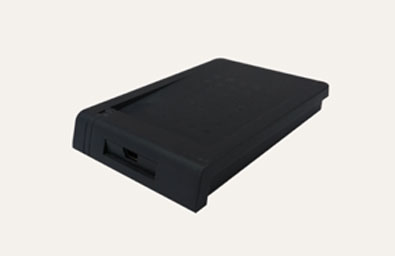 Lettore Desktop RFID UHF, operante in banda 860-960 MHz.
Compact and elegant version, it can be easily used via USB connection. Equipped with keyboard emulation mode or virtual COM port. Compatible with UHF EPC Class 1 Communication Standard Gen 2; ISO 18000-6C. Working in read / write mode and with a high read / write sensitivity, for reading distances up to 20 cm.
Compatible with EPC Class 1 Gen 2; ISO-18000-6C.
Reading distance: up to 20 cm.
Powered by USB connection to the notebook or PC desktop.
Supplied with the API development tool.
USB keyboard emulator.
Visual indication with the built-in LED / Buzzer.
Access control
Autentication
| | |
| --- | --- |
| Frequency | 860~960MHz |
| Standard | EPC Class 1 Gen 2; ISO-18000-6C |
| Reading distance | Fino a 20 cm |
| Writing distance | Fino a 15 cm |
| Comunication interface | USB 2.0; mini connettore USB 5-pin |
| Antenna | Integrata |
| LED indicator | Indicazione visuale a LED |
| Acustic Signal | Buzzer |
| Charging power | Standard USB – 5V 500 mA |
| Operating temperature | -20°c ~ +65°C / 5 ~ 95% RH |
| Storage temperature | -30°c ~ +85°C / 5 ~ 95% RH |
| Dimension | 105 W x 72 H x 16 D (mm) |