Armored TrolleyStandalone system
UHF RFID reader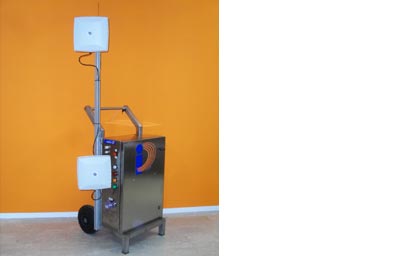 Portable system developed and manufactured by IDnova for standalone applications in outdoor logistic processes.
The RFID reader standalone application allows the tracking and control of transport vehicles and their load (containers, mobile cases or semitrailers) in port areas, back of port and intermodal, stock areas etc.
The integrated rechargeable battery allows the mobile reading station to operate in standalone mode with an accurate positioning. The 3G communication interface receives the commands for the remote control of the reading station and sends the acquired logistic information (boarding/landing, stock) to the corporate network where they are elaborated by the user's management software for the the back office operations.
RFID Reader

UHF Long Range Reader up to

 

4 Channels

Operating Frequency

860 – 960 MHz

Protocol

EPC Class 1 Gen 2, ISO 18000-6C

Antennas

Up to 4x Directive patch Long Range

Tag

passive UHF

Communication modem

Industrial router (3G, GPRS, HSUPA)

Visual signals

4 led lights

Operator panel

Tablet Windows 8.1 pro o.s.

Power supply

Rechargeable battery 24Vdc 12Ah

Power set

Input 100V-240VAC 50/60Hz 3A – Output 240VDC 5A

Operating battery life

8 hours in continuous reading –

16 hours in stand by

Cart structure

Inox steel – 2 wheels

Antennas support

Pole structure with height and direction adjustment

External dimensions

80 x 190 x 60 cm

Weight

55 kg