RFID Nail
RFID nail available in LF, HF or UHF technology, suited even for outdoor applications.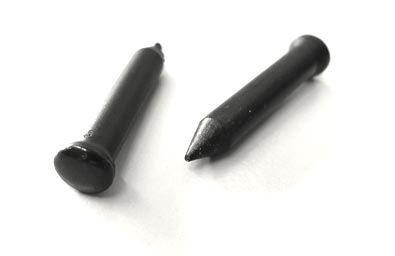 This RFID nail is very resistant tag and the chance to set the frequency according to your needs makes this tag really versatile. This little tag, therefore, has been thought to been used in different applications above all asset identification and tracking.
IDN NAIL is a little and very resistant RFID tag, can be used for different applications mostly in the identication and tracking of wood assets.
Developed to be applied on surfaces thats need to be drilled, it is also used in external environments. Available in different frequencies : LF at 125 Khz, HF at 13,56 MHz and UHF at 860 MHz.
trees labelling to decide growth rate;

wood goods identification;

testing of the origin of wood products;

tracking, nails can be used on every kind of wood, even the dry beech;

labelling of wood semifinisched products: information about the origin, quality, etc.;

nursery

identification forestry products: data on the producer and the origin of wood;
| | |
| --- | --- |
| Operating frequency | LF – HF – UHF |
| Material | ABS |
| Size | 36×8 mm  (custom) |
| Weight | 1.7 g (custom) |
| Operating temperature | from -20° C to +85° C |
| Protection | IP68 |