ABG245-R
Active 2.45GHz Rfid tag with long lasting battery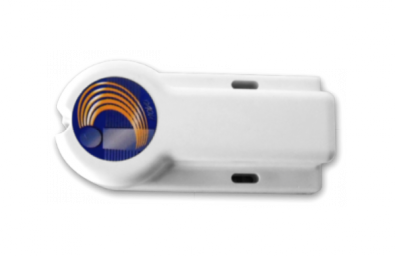 Robust active Rfid tag with long lasting battery
ABG245-R is an active long lasting battery tag working on 2.4-2.5GHz frequency range. It can be read up to 80m. It has a solid ABS housing and an IP65 protection.
Reduced consume bound to customised parameters.
High rank of protection.
High and user-adjustable reading distance.
Easy to mount.
Long lasting battery.
Suitable for either outiside or in hostile environment use.
Half rivet or adhesive applicable.
User-adjustable graphics.
Entrance check.
Real Time Location System (RTLS).
Transit scan.
Inventory and storage monitoring.
Approach scan.
Services launch.
Door to door differentiated garbage collecting management.
| | |
| --- | --- |
| Frequency Range | 2.4 -2.5 GHz |
| Operating mode | ID dispatch in Radio Frequency |
| RF power | Set up from -18dBm to 0 dBm |
| Reading distance | From 10 cm up to 80 m (depending on the reader and environment conditions) |
| Approximate battery lasting | 7 years (@ 0dBm; blink 1.5s; 25°C) – duration can change in regard of setting and use conditions |
| Material | ABS case |
| Size | 86 x 35 x 22 mm |
| Weight | <200g |
| Operating temperature | From -35°C to +85°C (90%RH) |
| Electricity supply | 7 mA 3V (blink 1.5s) |
| Supply | 1 lithium battery AA-high-temp. (changeable) |
| Warning | Low battery level |
| Protection | IP65 |