ABG245-R-AP-L
Active 2.45GHz LED RFID tag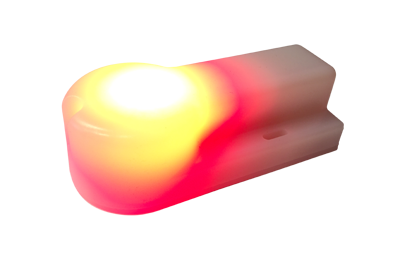 Active LED RFID tag with Air Programming and light sensors
ABG245-R-AP-L working on 2.4-2.5GHz frequency range so that this led tag can be read from 10cm to 80m. It is provided with a brighty LED, which can be remote controlled, and Air Programming application. Thanks to its air programming application the RFID led tag radio set up can be changed and the LED can be switched on.
Reduced consume bound to customised parameters.
RFID led tag with brighty LED which can be started by command.
High rank of protection.
High and user-adjustable reading distance.
Air Programming.
Long lasting battery.
Suitable for either outside or hostile environment use.
Half rivet or adhesive applicable.
User-adjustable graphics.
Real Time Location System (RTLS).
Position monitoring.
Approach scan.
Services launch.
Logistics.
Production systems creation.
Quick finding.
Crash alert.
Asset Tracking.
Frequency Range

2.4 -2.5 GHz

Operating mode

ID dispatch in Radio Frequency
Set up On Air

RF power

Set up from -18dBm to 0 dBm

Reading distance

From 10 cm up to 80 m (depending on the reader and environment conditions)

Approximate battery lasting

7 years (@ 0dBm; blink 1.5s; 25°C) for radio frequency transmission – duration can change in regard of setting and use conditions

Material

Policarbonate case (PC)

Size

86 x 35 x 22 mm

Weight

<200g

Operating temperature

From -35°C to +85°C (90%RH)

Electricity supply

7 mA 3V (blink 1.5s)

Supply

1 lithium battery AA-high-temp.

Warning

Low battery level

Protection

IP65