ABG245-AT
Antitampering Tag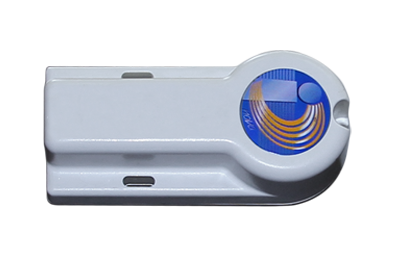 Active RFID tag suitable for antitampering and antishoplifting applications.
ABG245-AT is an antitampering tag operating in the 2.4-2.5GHz frequency range. As soon as the tag is tampered or taken off or any time there is a lack of communication between itself and the reader it generates and transmits a warnig to the reader (e.g. Attempted robbery).
Reduced consume.
High rank of protection.
High reading distance.
Antitampering Tag.
Long lasting battery.
Suitable for either outside or hostile environment use.
User-adjustable graphics.
Entrance check.
Monitoring.
Vehicle and asset tracking.
Antitampering.
Real Time Location System (RTLS).
Logistics.
| | |
| --- | --- |
| Frequency Range | 2.4 -2.5 GHz |
| Operating mode | It sends signal to the reader when it has been taken off from its attachment base |
| RF power | Set up from -18 dBm to 0 dBm |
| Reading distance | From 10 cm up to 80 m (depending on the reader and environment conditions) |
| Approximate battery lasting | 5 years (@ 0dBm; blink 1.5s; 25°C) – duration can change in regard of setting and use conditions |
| Material | ABS case |
| Size | 86 x 35 x 22 mm |
| Weight | <200g |
| Operating temperature | From -40°C to +85°C (90%RH) |
| Protection | IP65 |