ABG-245-3S-L
Active Tag with brightness sensor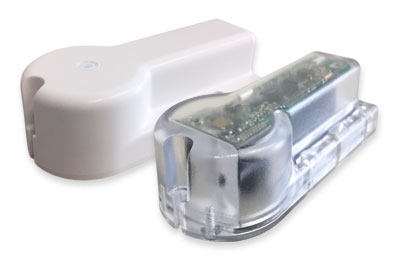 Active RFID tag with sensors on board.
ABG245-3S-L combines active ABG245 family tag functions with a brightness sensor. It can be read up to 80m and it is provided with an internal memory for data storaging coming from the sensor. In this way the device can work as datalogger too.
ABG245-3S-L is a solid tag and it can be provided with a shell which guarantees IP65 protection. It can properly work in spaces with an high percentage of humidity to 90% and changeable temperature between -40°C and +85°C. Shape and size can be customised and it is even possible have a personalised logo.
Brightness sensor monitoring function can be set based on threshold (the tag memorises the data when the threshold is exceeded) or on continuous values recording (in preset time intervals). Internal memory can memorise up to 32000 data coming from sensors. Lithium battery, which lasts 3 years, can be substituted.
The sensors on board of ABG245-3S tags can be customised and equipped with sensors of different kind as temperature, acceleration, humidity and pressure one.
Monitoring of variable data over time

Vehicle and Asset Tracking

Transport Monitoring
Frequency Range

2.4 -2.5 GHz

RF power

From -18dBm to 0 dBm

Size

User-adjustable
Standard 86 x 35 x 22 mm

Weight

<200 g

Operating temperature

From -40°C to +85°C (90%RH)

Supply

Lithium battery – 7mA / 3V

Battery approximate lasting

3 years @ 0dBm – 25°C. Memorisation pause of environment data every 60 sec; reading every 20 sec; spontaneous transmission every 60 sec; 1 complete reading of the memory every week when working in datalogger mode

Protection

Available version IP65