RFID wristband
RFID Wristband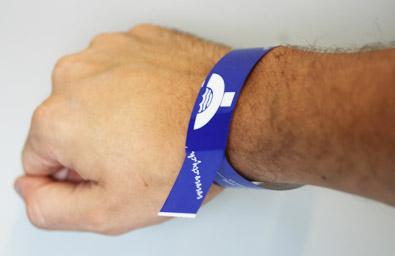 Personal identification RFID wristband made of light, flexible, comfortable and tears resistent plastic.
RFID Wristband has a self adhesive latch that guarantees an easy application but especially it will be hard for someone once put it around the wrist to take it off. It resists to repeated stress, soaps, alcohol, water and chemical products.
The RFID wristband is personal, that is to say it identifies only one person and it memorises data about who wears it.
Available for indoor or outdoor use.

UHF, HF and NFC technology are available.

Printing on both hands can be customised at the request of the customer.

Customer can print data on the label of the RFID wristband and program RFID.
Entrance check

Events (music, sport ecc)

Museum

Conventions and expo

Tourism (camping, resorts, ecc)

Accessories (handbags, rucksacks, luggage, ecc)

Hospitals