Slim Gate UHF
UHF Slim Gate for entrance check and UHF Tag reading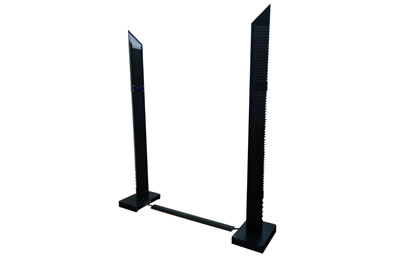 Slim Gate is a column shaped reader realised with Slim UHF technology and a particularly charming design.
The system of this UHF gate is an all-in-one kind and it allows the integration with specific devices of bright and acustic signal. Slim UHF Gate can be customised depending on the customer requests.
Slim UHF Gate is a UHF RFID tag reader working on 865-956MHz.
Two columns must be linked through coaxial cables. The device has been thought to check entries therefore to be used near doors, gates, staircases. Columns, provided with photocell to detect the passage direction and provided with acoustics and bright warnings for carried out readings.
The all structure is light and conformed to be easily carried and installed. The gap is programmed according to EPC1 Gen2, a kind of communication protocol. The gate can memorise up to 10000 user ID and 50000 reading log in white list.
The UHF gate can be power supplied by a Power over Ethernet (PoE).
Frequency Range

865 MHz – 868 MHz

RF power

Programmable up to 31.5 dBm
(up to 30 dBm with PoE supply)

Number of channels

4

Input/Output

Optional: 1 I/O available for the user

Connection interface

Ethernet 10/100 BaseT
RS232

Size

152cm (H) – Base 21.5 x 32.5 x 1.8 cm

Weight

10 Kg

Operating temperature

From 0°C to +40°C

Electrical supply

24 VDC
External supply 100-240 VAC (50/60 Hz)

Compilance certificate

CE-ETSI/EN 302-208
Legislation reference CEPT ERC REC 70-03