OANT-16
Omnidirectional 2.45 GHz antenna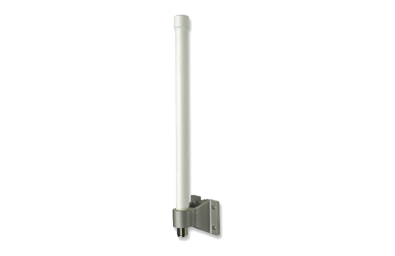 Omnidirectional antenna with vertical polarization.
This omnidirectional RFID antenna offers a good coverage level thanks to its high gain. It can be installed either outdoor or indoor, either on a pole or on a wall bracket because it is provided with IP65 protection. The N-type connector, suitable for industrial applications, guarantees a solid and reliable connection.
Gain of 6.5 dBc.
Perfect to increase the ray and the transmission speed in a wireless net.
IP65.
To be installed either on a pole or on a wall.
3 years guarantee.
High reading distance.
Easy to mount.
Compact.
Entrance check.
Real Time Location System (RTLS)
Transit scan.
Monitoring.
Approach scan.
Services launch.
Frequency Range

2.4 – 2.5 GHz

Gain

6.5 dBc

Polarization

Linear – vertical

HPBW

Horizontal: 360°
Vertical: 27°

Impedence

50 Ohm

Connector

N female

Operarting temperature

From -20°C to +65°C

Storage temperature

From -30°C to +70°C

Material

Glass fiber covering
Zinc base

Weight

170g

Size

21 x 420 mm