Industrial workstation in RFID technology for production control and automated process management
IDN RDD-PAD is an integrated "all in one" device capable of monitoring the progress of a specific workplace in real time simply by detecting the presence of the work note. The elegant and modern design and an industrial case allow installation in any environment; the possibility of processing up to five work sheets at the same time allows flexibility and dynamism for the control of any type of process.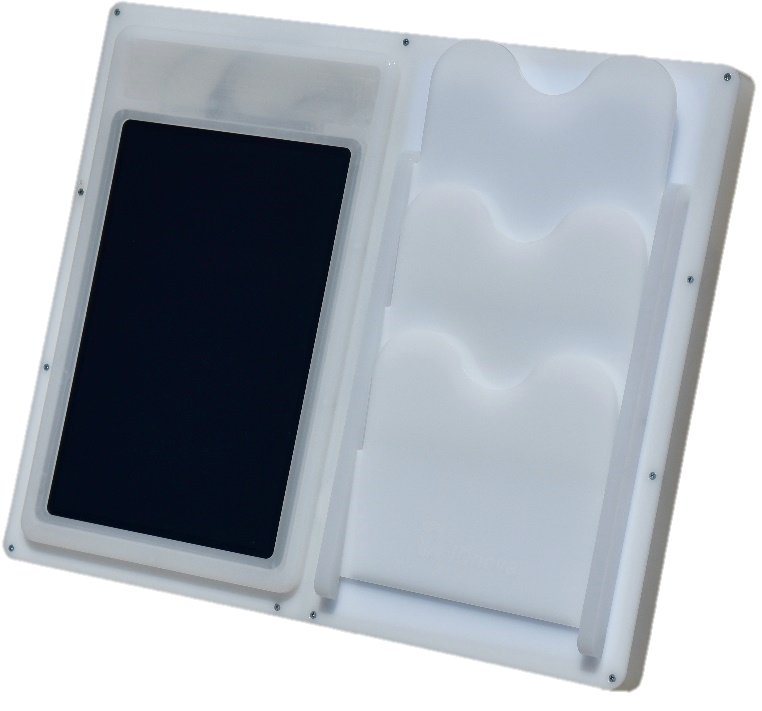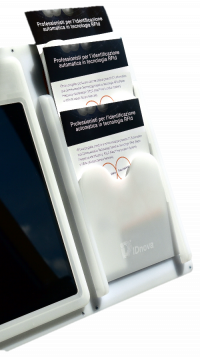 The worksheet must be identified with an RFID sticker capable of "transporting" the information through all processing stages. The worksheets inserted in the appropriate pockets of the IDN RDD-PAD station are automatically detected and allow a real-time management of the work phases, a control of the production progress, a management of the big data detected on the field, in a totally transparent way for the worker.
integrated workstation
integrable with any management software
simultaneous reading of several work sheets
extreme ease of use for workers
ethernet or WiFi communication

Production progress control
Tanneries
Automotive
Manufacturing companies
Each process is tracked with related associated information (what, when,where, who, etc.)
It allows the reduction of errors and waste (skipping a processing phase, or repeating the same phase several times)
Provides visibility of the progress of an order to optimize logistical and production decisions
It is possible to have realistic feedback on the work status of each workstation in terms of productivity
The operator does not have to perform special operations for monitoring and can work hands-free
| | |
| --- | --- |
| Operative Frequency | 13.56 MHz |
| Protocol | ISO/IEC 15693 |
| Antenna | Special Embededd Antenna IDN 1831 |
| HMI | Tablet 10.5 " |
| Power Supply | 220 Vac |
| Communication | Ethernet 10/100 Base-T or WiFi |
| Operative Temperature | -20°C + 50°C |
| Dimensions | cm 41 x 33 x 4 |
| Weight | Kg 4.2 |
| Certificazions | CE |
| Housing | Plexiglass & Metal |
| Handling | VESA 100 Support – Adjustable in inclination and rotation |
| Column support(optional) | White – cm 14 x 5.5 x 120 – Kg 11.8 |