RDD ICXP SA/WALL, Ethernet
HF desk reader/writer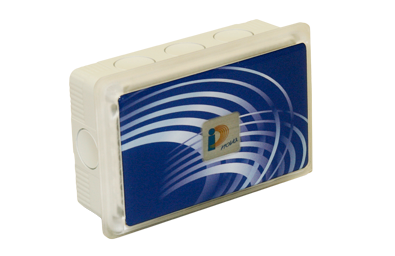 Wall reader/writer for passive HF RFID tags reading.
RDD ICXP SA/WALL works on HF 13,56 MHz and it is provided with 4 brighty LED of warning and it has a plexiglas housing.
RDD IXCP SA/WALL is a wall reader working on 13.56MHz frequency. The device has 4 integrated Led and a transparent plexiglass case that lets user looking clearly when the LED start working.
The reader can be used for writing and reading passive Tag(13.56MHz) according to ISO / IEG 15693. The device has an integrated antenna and can be supplied with an external one for any kind of customisation. The device can work wheter in "Stand alone" mode, in other words without necessarly being connected to an host, and keeping reading or in online when it is connected to an host device through Ethernet port. The reader can manage up to 15000 users, create a reading log and it can be customized with labels or logo.
| | |
| --- | --- |
| Frequency Range | 13.56 MHz |
| Channels number | 1 |
| Input/Output | Relay control |
| Connection interface | Ethernet 10/100 BaseT |
| Connettori | Opzionale per antenna esterna |
| Material | Case of transparent plexiglass |
| Size | 56 x 90 x 25 mm |
| Weight | 110 g |
| Operating temperature | From -20°C to +50°C |
| Supply | 6-7.5VDC |
| Compliance certificate | ISO/IEC 15693 |