UPA-25
Directional UHF antenna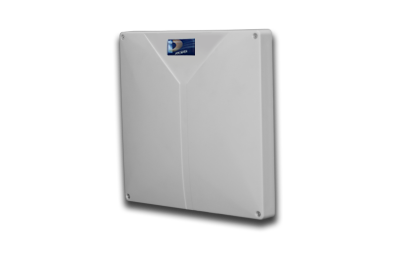 Directional UHF band antenna.
UPA-25 is a directional antenna for UHF reader. It combines high performances and compact size. It complies with midrange and longrange readers. The antenna grants an high reliability in reading thanks to circular polarization. This directional antenna is even suitable for industrial applications.
Gain of 7,5 dBi.
Reading distance: up to 10 mt (depending on the tag, the conditions
environmental and use)
Mounted on pole or wall.
3 years warranty.
Ideal for industrial applications.
Easy to install.
IP65 protection.
Compact design.
Entrance check.
Real Time Location System (RTLS)
Transit detection.
Monitoring.
Bulk tap application.
Pole mounting bracket.
Wall mount bracket.
Frequency Range

865 – 868 MHz
Operating Standard ETSI-EN 302-208

Gain

7.5 dBi

Polarization

Circular

HPBW

Horizontal: 76°
Vertical: 55°

Impedence

50 Ohm

Connector

Type N – female

Operarting temperature

From -20°C to +80°C

Storage temperature

From -30°C to +85°C

Material

Housing in ABS e chassis in aluminium

Weight

700g

Size

250 x 250 x 45 mm

Installation

N° 4 pins M4