IDN UPA-12
Antenna UHF directive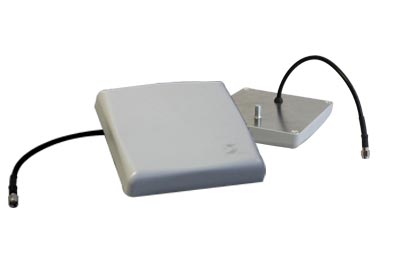 Mid range directional antenna with circular polarization.
The UPA-12 is a mid range antenna with reading distances up to 5 meters and is ideal for working with any type of UHF bandwidth reader / writer. Thanks to its high gain and circular polarization, it is possible to read multiple RFID tags with different orientation. Even tought if UPA12 is small, it's robust and reliable and allow industrial applications, access control, identification, traceability, etc.
5 dBi of gain.
Reading distance: up to 4 mt (depending on the tag, the conditions environmental and use)
Mounted on pole or wall.
Ideal for industrial applications.
Easy to install.
P65 protection.
Compact design and small size.
Access control.
Product identification.
Industrial automation.
Monitoring.
Bulk tag application.
Pole mounting bracket.
Wall mount bracket.
RF connection cable
| | |
| --- | --- |
| Frequency Range | 865 – 868 MHZ operative standard ETSI-EN 302-208 |
| Gain | 5 dBi |
| VSWR | 1.5 |
| Polarization | Circular |
| Impedance | 50 Ohm |
| Connection | SMA-Male |
| Operative temperature | Da -20°C a +80°C |
| Storage temperature | Da -30°C a +85°C |
| Material | Housing in ABS and chassis in alluminium |
| Cable | Integrated with lenght 20 cm |
| Weight | 340g |
| Dimension | 122 x 122 x 34 mm |