ALR245SA
2.45 GHz Stand Alone Long-range Reader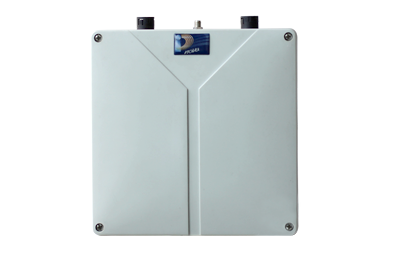 All in one active RFID tag reader working on 2.45GHz frequency with either integrated or external antenna for long range reading from 10 to 50m with Ethernet as communication interface.
It can work either offline or online managed by a remote PC. It has GPIO: 2 entrances and 2 exits adjustable from the user.
ALR245SA device is an active RFID tag reader which works on 2.4-2.5 Ghz. It has a10/100 Base T Ethernet connection or, optionaly, it can be connected through a USB or Wifi.
It has an integrated omnidirectional antenna that reads active IDnova ABG245xx Tag up to 10m.1. It can be added as option an external omnidirectional antenna (up to 20m) or a directional antenna (up to 80m). The reader is compact, light (200gr), solid and it can be installed outdoor thanks to IP65 protection.
Contact management has a function of tag classification, white list and 7 different types of users classification.
The device has 2 programmable entrances and exits so it can manage gears as alarms, doors and photocells ecc.
ALR245-SA can have a backup cell.
1. Real distances depend on different factors.
Extremely compact and easy to mount.
Suitable for hostile environments.
RTC (Real Time Clock).
When connected to pc host in stand alone mode it works online.
Gautonomous management of I/O devices (photocells,door opener, lights, warning).
Warning when there is no electricity.
Long range performances.
Extra battery.
Entrances check.
Presence scan.
RTLS.
Safety.
Time tracking in sport.
Frequency Range

2.4 -2.5 GHz

RF power

From -85 to -51 dBm

Input/Output

2 opto isolated programmable entrances and 2 programmable exists and one of these has relé

Connection interface

USB
Optional
instead of USB
Ethernet 10/100 Base T o
WiFi (802.11b)

Connectors

Integrated antenna

Size

170 x 95 x 45 mm (LxWxH)

Weight

<200g

Operating temperature

From -20°C to +85°C

Supply

12/24 V DC

Other

Optional: Case IP65