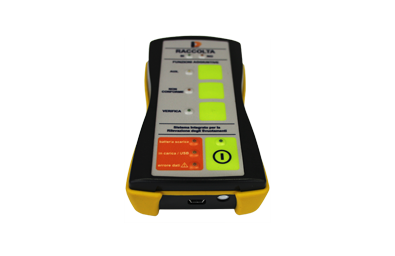 Active RFID tag reader working on 2.4-2.5GHz frequency.
Small reader with connection interface either USB or 2.45GHz WiFi. The device is provided with an integrated omnidirectional antenna and it can read active RFID tags up to 50m.
It works as datalogger which keeps recording RFID tag reading in offline mode. It can work autonomously 8 hours. The device reads active Idnova ABG245xx tag. The device has the double function of remote reading and proximity reading and it can transfer memorized log to one or more data collection units through a wireless connection. The gear has a "Noise immunity" function and has a rechargaeble lithium cell.
The device can work in batch mode by recording logs of 30000 active tags and manage an internal list of 30000 tags.
It can work as datalogger recording continuously and offline tag readings for 8 hours.
It has a double function: remote reading and near reading of a tag.
It transfers the log of recorded readings ( in tag-Id and data-time timestamp shape) to one or more data collectiong centers composed by fixed readers through 2.45GHz wireless connection ( or optionally through USB 2.0 interface).
"Noise immunity" function.
Supllied with a rechargeable lithium battery, it can quickly recharged through USB.
It has the tag battery condition scanning function too.
Real-Time Location Systems (RTLS).
Logistics.
Warehouse management.
Garbage collecting.
| | |
| --- | --- |
| Frequency Range | 2.4 -2.5 GHz |
| RF power | From -85 to -54 dBm programmable with 32 steps @1dBm |
| Channels number | 2 |
| Connection interface | USB – Wireless 2.45 GHz |
| Connectors | Omnidirectional integrated antenna |
| Size | 115 x 70 x 25 mm |
| Weight | <150g |
| Operating temperature | From -10°C to +70°C |
| Supply | Through Li/Ion battery 3.7 V rechargeable via USB |