ALR245
2.45 GHz Long-range Reader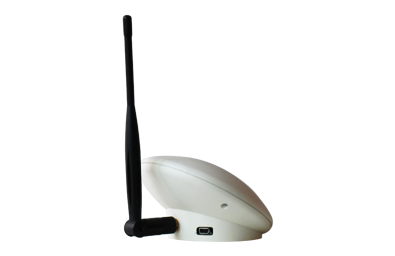 All in one active RFID tag reader working on 2.45GHz frequency for indoor use.
Monopole, integrated, omnidirectional antenna for programmble reading up to 10m. Communication interface either Ethernet or USB.
The device is an active RFID tag reader which works on 2.4-2.5 Ghz. It is a small reader (10cm per side) and it can be connected to pc through Ethernet 10/100 Base T. It can be optionally implemented with a USB, LAN or WIFI communication interface.
The gear has an integrated omnidirectional antenna which can read active Tags up to 10m far. It can be added an omnidirectional antenna to read up to 20m or 2 directional antennas that can read to 50m. The equipment is very light (100gr) and it works outdoor as well thanks to covershield IP65. This reader works with all IDnova active Tag ABG245xx.
Extremely compact and easy to mount.
Suitable for hostile environment (with IP65 case).
Long range performances.
Design product.
Entrances check
Presences scan.
RTLS.
Safety.
Anti-shoplifting.
Frequency Range

2.4 -2.5 GHz

RF power

From -85 to -51 dBm

Channel numbers

2

Communication interface

USB
Optional
instead of USB
Ethernet  10/100 Base T o
WiFi (802.11b)

Connectors

Omnidirectional
integrated antenna
Optional: up to 2 connectors for external antenna

Size

110 x 95mm

Weight

100g

Operating temperature

From -10°C to +70°C

Other

Optional case IP65