ALR245-DG
2.45 GHz USB Reader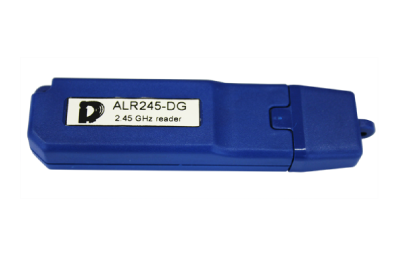 Active RFID tag USB key reader working on 2.45GHz frequency.
Monopole, integrated, omnidirectional antenna for programmable reading up to 8m. Supply and communication interface are USB.
The device is an active RFID Tag reader which works on 2.4-2.5 Ghz. It is a USB key and is very light (50gr). The gear has an integrated omnidirectional antenna and it can read active Tag up to 8m. This reader works with all IDnova active Tag ABG245xx. IDnova supplies both a software for the reader use and program library for updating his own application on a Windows or Android operating system.
Compact portable reader
Distance of performance is adjustable
Intelligent form factor
Virtual COM Port
Windos OS, Android and Linux compatible
Entrances check.
Presence scan.
RTLS.
Safety.
Anti-shoplifting.
| | |
| --- | --- |
| Frequency Range | 2.4 -2.5 GHz |
| RF power | From -85 to -54 dBm |
| Channel number | 1 |
| Connection interface | USB 2.0 |
| Connectors | Integrated omnidirectional antenna |
| Material | ABS case |
| Size | 80 x 20 x 12 mm |
| Weight | 20g |
| Operating temperature | From -20°C to +60°C |
| Supply | Directly from USB port |