ABG-245-T
Slim blister shaped active 2.45 GHz RFID Tag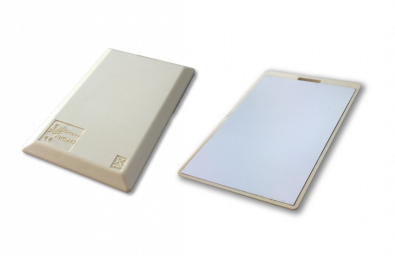 Slim blister shaped RFID Tag
ABG-245-T is a thin active RFID tag operating in the 2.4-2.5GHz frequency range. It can be read up to 80m, it is provided with a lithium battery that lasts 3 years.
This thin active RFID tag is the size of a credit card and thanks to its plastic half shell with film closure it can work in spaces with an humidity percentage up to 90% and a range of temperature between -20°C and +60°C. Tanks to its IP65 protection, the thin active RFID tag can work even outdoor.
Reduced consume bound to customised parameters.
High and user-adjustable reading distance.
Easy to mount.
Suitable for outside use.
Very competitive price for elevate quantity.
Entrance check.
Real Time Location System (RTLS).
Transit scan.
Monitoring.
Approach scan.
Services launch.
Door to door differentiated garbage collecting management.
Asset Tracking.
| | |
| --- | --- |
| Frequency Range | 2.4 -2.5 GHz |
| Operating mode | ID dispatch in Radio Frequency |
| RF Power | Set up from -18 dBm to 0 dBm |
| Reading distance | From 10 cm up to 80 m (depending on the reader and environment conditions) |
| Approximate battery lasting | 3 years (@ 0dBm; blink 1.5s; 25°C)  – duration can change in regard of setting and use conditions |
| Material | plastic half shell with film closure |
| Size | 86 x 54 x 5.5 mm |
| Weight | 20 g |
| Operating temperature | From -20°C to +60°C (90%RH) |
| Electricity | 7 mA 3V (blink 1.5s) |
| Supply | 1 lithium battery |
| Warning | Low battery level |
| Protection | IP65 |